Gaeilge, also known as Irish Gaelic or Gaelic, is a language historically spoken by the Irish people. Irish is now spoken as a first language by a minority of Irish people, as well as being a second language of a larger proportion of the population. Around the turn of the 21st century, estimates of native speakers ranged from 20,000 to 80,000 people.
There are also thousands of Irish speakers in Northern Ireland, and a comparable number of fluent speakers in the United States and Canada. Historically the island of Newfoundland had a dialect of Irish Gaelic, called Newfoundland Irish. In pronunciation, Irish most closely resembles its nearest relatives, Scottish Gaelic and Manx. http://en.wikipedia.org/wiki/Irish_language


Language Lessons for Adults
Here in Ottawa, Irish Ottawa Arts provide language classes from September to May in to terms, Fall and Winter. We offer several levels:
Beginner level: have never done any Irish, ever.
Advanced Beginner: have previously done some Irish but need a refresher.
Intermediate: has a reasonable level of fluency; can participate in everyday conversation, can read simple Irish text and writing simple sentences.
Advanced: has a good to high level of fluency of the Irish language.
Beginner and Avanced Beginner, classes are one (1) hour in lenght, once a weeks, and Intermediate and Advanced are one and a half (1.5) hours, also once a week.
As well, under the auspices of Ottawa Irish Arts, there is a informal speaking group, called Caint agus Comhrá; for more information about this group contact Toni Forsythe.
If you are interested in Irish language classes, you are most welcome to come and check us out, and register:


Language Lessons for Children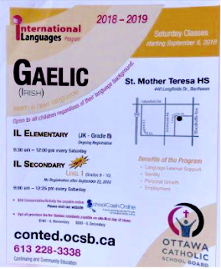 Ottawa Irish Arts is glad to say the Ottawa Catholic School Board has their pre-registration
for Irish-language
for Irish-language classes are now OPEN for the 2018-2019 school year! This year,
courses at both the elementary AND secondary levels are open for pre-registration
. Classes are offered FREE OF CHARGE for all Ontario students (enrolled at public, Catholic, or private schools)
Register now at 613-228-3338
Please tell anyone you know who may be interested in having their children learn Irish as
classes risk being cancelled in September if there is insufficient attendance
.
Note:
Out-of-province or mature students in continuing education at the secondary level pay tuition.


Grammar and pronunciation