Resources: Irish Set Dancing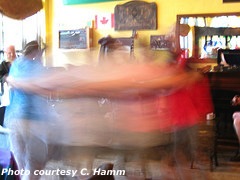 Here we are providing links to other sources of information related to Irish Set Dancing. Information about the origin of Set Dancing, dancebooks and videos of dances.
What is Irish Set Dancing?
Irish set dancing, also referred to as "country set dancing", is a form of social dancing which has been popular in Ireland for over 150 years. These dances are based on French quadrilles (which were brought to Ireland by the British army in the nineteenth century), that were adapted by the Irish by integrating their sean-nós (old style) steps and Irish music.
The distinguishing characteristics of Irish set dancing is that it is danced in square "sets" of four couples (eight people), and consist of several "figures," three to six figures with a short pause between each, frequently repeated throughout the set. These "sets" are danced by people in a formation similar to that of American square dancing. Each part of the set dance (figure) is danced to a music tempo, mostly reels, jigs, polkas, hornpipes and slides. The sets come from various parts of Ireland and are often named for their place of origin; examples are the Siege of Ennis, Antrim Square, and the Clare Lancers Set.
The music these figures are usually danced to can include reels, jigs, hornpipes, polkas. In set dancing there is less emphasis on footwork and more on the figures (the formation/movements of the dancers within the "set"). The basic footwork can be described as a low, 'sliding' movement. There are many different styles, from basic steps to very elaborately embellished steps. http://www.irishdancelosangeles.com/id_irishsetdance.html, http://en.wikipedia.org/wiki/Irish_dance#Irish_set_dancing.
Another Irish social dance is ceili dancing. This is a different, separate repertoire of dances which are commonly danced in Northern Ireland, England, America and Australia, but uncommon in the south of Ireland. The dances are in many forms, for couples or threesomes, in lines, squares and circles, including several in four-couple sets.
Dance notes/books
An excellent book describing the history of set dancing, the steps, the terminology and 64 of the most commonly danced sets is "Toss the Feathers" by Pat Murphy, published by Mercier Press.

Here you can link to Joe O'Hara' s "Study Notes for 80 Sets and 11 Figure Dances."

Contains:
Set Dance Glossary
(Aran, Ardgroom, Armagh, Auban Ginny Ling, Ballinascarty -Halfset-, Ballingeary, Ballycommon, Ballyvourney Jig, Ballyvourney Reel, Black Valley, Borlin Valley Polka, Caledonian, Caledonian Round the House, Camden Hornpipe, Caragh Lake, Castle Cashel, Cavan Reel, Clare Lancers, Clare Myserks, Clare Orange & Green, Clare Plain, Cloonadiveen Lancers, Connemara Reel, Corofin Plain, Derrada, Down Caledonian, Down Lancers, Down Quadrilles, Durrow Threshing Set, East Galway, Fermanagh, Foraer a Neaintin, Glencree, Hungerford Jig, Inis Meain, Jenny Lind, Kenmare, Kildownet -Halfset-, Killenaule Lancers, Killyon, Kilmanagh Lancers, Labasheeda, Leitrim Jig, Limerick Orange & Green, Melleray Lancers, Monaghan, Newmarket Mezerts, Newport, North Kerry, Paris, Polka Plain, Portmagee Miserk, Roscommon Lancers, Rosscahill, Skibbereen, Sliabh gCua -Version 1-, Sliabh gCua -version 2-, Sliabh Luachra, Sneem, S Galway -Workshop version-, S Galway -Traditional Halfset-, South Kerry, South Sligo Lancers, Spa Televara, Televara, Tubbercurry Lancers, Valentia Island -Right & Left-, West Kerry, Williamstown).
(Eight Hand Jig, Eight Hand Reel, Sixteen Hand Reel, Duke Reel, Fairy Reel, Harvest-time Jig, Haymakers Jig, The High Cauled Cap, Hurry the Jug, Morris Reel, Waltz Cotillon).
(Ballycastle, Borlin Jenny Reel, Doire Cholmcille, Fermanagh Quadrilles, Glencar, Glencorrib, Inis Oirr, Kilfenora, Tory Island Lancers, Tournafulla, Victoria).
Videos of dances
The troupe of the Moscow Irish Folkdance Club has made superb recordings of two of the most common dances played at our Ottawa Branch ceilis, the Antrim Square and The Clare Dancers. Check each video and practice if you wish so you can dance them at the next ceili.
Antrim Square, Fig 1: http://www.youtube.com/watch?v=FnO2IdqvSEc&feature=bf_next&list=PL726E9B71E508C4DE
Antrim Square, Fig 2: http://www.youtube.com/watch?v=eTuEAV0nEMY&feature=BFa&list=PL726E9B71E508C4DE
Antrim Square, Fig 3: http://www.youtube.com/watch?v=Nnol1Zh6y70&feature=autoplay&list=PL726E9B71E508C4DE&playnext=1
Clare Lancers Set. Figure 1: http://www.youtube.com/watch?v=hnzR8Bpmnyo&feature=relmfu
Clare Lancers Set. Figure 2: http://www.youtube.com/watch?v=vA1_jfgO8xs&feature=relmfu
Clare Lancers Set. Figure 3: http://www.youtube.com/watch?v=FVWF91J8_yA&feature=relmfu
Clare Lancers Set. Figure 4: http://www.youtube.com/watch?v=X-cHe5YOOrc&feature=relmfu
Clare Lancers Set. Figure 5: http://www.youtube.com/watch?v=QcAZCmF2J-g&feature=relmfu
A very good resource to view dances like the Kilfenora, Cashel, Claddagh sets, and others, is Mike Didkovsky's YouTube Channel for the Moscow Irish Folkdance Club: http://www.youtube.com/channel/UC9NrkRVgDuILkO1WFEdtbnA
Videos of steps
If you are curious about the types of steps used in set dancing, here is an example on how to do an Irish reel step: This is a 4 part reel step for set dancing - (1) left heel; (2) right push: left 3-right 4: (3) right heel; (4) left push: right 3-left 4.
Here are some helpful dance guidelines: Irish Set (and Ceili) Dance Etiquette
Remember, you do not need to know how to dance nor need to have a dancing partner. Everyone is welcome!